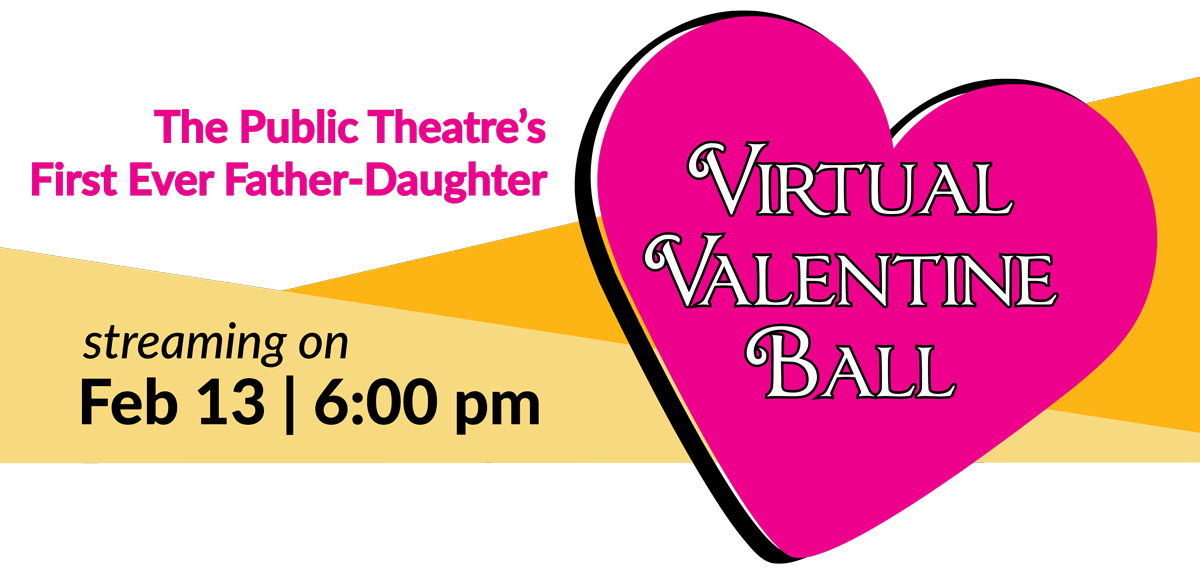 The annual Father-Daughter Valentine Ball, which has sold out to more than 450 Lewiston/Auburn dads and daughters every year for the past 24 years, is reinventing itself in 2021 to continue the beloved tradition and provide a festive night of dancing, surprises, and fun for families.
The 2021 VIRTUAL Father Daughter Valentine Ball will be held on
SATURDAY, February 13, 2021 from 6:00 pm – 7:00 pm via live stream
The first 100 orders for the Virtual Ball will receive an early invitation to purchase tickets to the next in-person Father/Daughter Valentine Ball!
Treat your daughter to a festive evening of dressing up and dancing with her dad! Girls 4-12 years-old are sure to treasure this special time with their fathers at The Public Theatre's FIRST EVER VIRTUAL VALENTINE BALL.
This private live-streamed event features:
ACTIVITIES
Dancing
Have fun with popular group dances like the "Chicken Dance",
Group karaoke sing along
Share your photos and messages on a real-time moderated social wall
Valentine's Art Contest
Raffle basket drawings (buy tickets in advance) Read more >>
TREATS
Decorations for your "ball room"
Party Favors
Candy
AND
BONUS DRAWING – Every daughter gets entered into a drawing for a special piece of jewelry.
You will receive a Souvenir Ticket when you pick up your Party Pack.
TICKETS
Father/Daughter – $20 – ticket includes one Valentine Party Pack containing decorations, party favors and treats for one father and one daughter.
Additional Daughters – $10 each – includes Goodie Bag of additional treats and party favors
Every Daughter gets one free entry into the Raffle Basket drawings.
Additional Raffle Tickets are sold separately.  You may purchase them at the same time as your tickets or later, as a separate transaction.  All Raffle entries must be purchased by Wednesday, Feb 10 at midnight.
The link to the event will be sent to you about 24 hours before the event.
Your Valentine Party Packs will be available for Pick up at The Public Theatre, 31 Maple Street, Lewiston, ME on Thursday and Friday, Feb 11 & 12  from 9:00 am to 7:00 pm.
Raffle Basket Entries
Raffle tickets are $2 each or $1.50 if you purchase a total of 10 or more.
If you purchase 10 or more raffle tickets, you must enter 10RAFFLE in the discount code field at check-out to get the reduced price.
All Raffle Tickets must be purchased by midnight, Wednesday, Feb 10 to be included in the drawings.  
The drawings will take place on February 11 and winners will be announced during the Virtual Ball.
HOW TO BUY RAFFLE TICKETS
Below you will find a selection of baskets. You may buy as many Raffle Tickets you like for whichever baskets you would like to win. You can only win baskets you have purchased Raffle Tickets for.
Click any of the

BUY

buttons to go to the ticketing site.
Enter the number of Raffle Tickets you want to buy for that basket, and click ADD.
Under "Item Total", clicking  "Back"  will take you to all the raffle items and ball tickets
NEXT will take you to your cart.
If you do return to this page, the ticketing site will remember your cart items for 1 hour. You can click on any BUY button to return to the ticketing site.
#1 –  Artist Basket
Construction Paper ● Scissors ● Pencils ● Paint ● Paint Brushes ● Colored Pencils ● Crayons ● Glitter ● Glue ● Sketch Pads ● 2 Wood Projects ● Art Supply Case
#2 – Baking for Fun
2 Cake Mixes ● Frosting ● 2 Baking Pans ● Measuring Cups & Spoons ● Cake Decoration Kit ● Sprinkles ● Whisk, Spatula & Spoon ● Oven Mitt & Tea Towel
#3 – Hair-tastic
Biolage Shampoo & Conditioner ● Mirror ● Brush & Combs ● Hair elastics ● High Gloss Hair Finish ● Multi-colored Hair Bands ● Hair Clips ● Microfiber Hair Wrap
#4 – Indoor Winter Fun
900 Hilarious Jokes for Kids ● Make Your Own Kaleidoscope ● Slime Station Fun Activities
#5 – Outdoor Winter Fun
Sled ● Hat ● Scarf ● Gloves ● Giraffe Mug ● Hot Chocolate ● Popcorn
#6 – Spa Basket (A)
2 Containers of Body Wash ● Microfiber Hair Wrap ● Manicure Set ● Bath Gel ● Bath Sponge ● Pumice Stone ● Nail Buffer ● Face Mask ● 3 Bath Bombs ● 2 Nail Polish ● Lip Balm ● Cotton Makeup Pads
#7 – Spa Basket (B)
2 Containers of Body Wash ● Microfiber Hair Wrap ● Manicure Set ● Bath Gel ● Bath Sponge ● Pumice Stone ● Nail Buffer ● Face Mask ● 3 Bath Bombs ● 2 Nail Polish ● Lip Balm ● Dove Valentine Candy
#8 – Dad Treat Basket
Lottery Tickets ● Soft drink ● Nuts ● Candy ● Beef Jerky
#9 – Lots of Love (A)
Scushmallow Cat ● Drink Cup ● Socks ● Sand toy ● Slime ● Gummies ● Fanny Pack ● Candles ● Glitter Pen ● Slippers
#10 – Lots of Love (B)
Stuffed Unicorn ● Drink Cup ● Socks ● Sand toy ● Slime ● Cup with Candy ● Fanny Pack ● Candles ● Glitter Pen ● Slippers
Virtual Valentine Ball FAQ's
This Virtual Valentine Ball is a first for us all.  Please review these FAQ's.  If you still have questions, please give us a call at 207-782-3200.  We are in the office Monday-Thursday 9:00 am – 4:30 pm.  You may also email us at info@thepublictheatre.org.
I am buying tickets for someone else. How do I make sure they get the access links?
Please purchase tickets under the name of and use the email for the attendee when ordering your tickets so they receive the confirmation and event link.
You do not have to pay with their credit card.
If you need a copy of the order for your records we can send you one. Just indicate in "comments" on the checkout form. "please send receipt to Jane Doe at jdoe@myemail.com"
I bought tickets and I need the access link sent to a different email than what is on my confirmation.
If you need the actual event link email to go to a different email address than what is noted on the confirmation as below:
* A link to the event will be sent to youremail@address.com about 24 hours before the scheduled time.
Please let us know as soon as possible so they can receive the links when they are sent out the day before the event.
Call 207-782-3200 or email info@thepublictheatre.org and let us know where the link should be sent. You must provide the name and order number from your confirmation email.
I want to pay with a check or cash. Do I have to buy tickets online?
If you would like to pay with cash or check please call 782-3200 to place your order.
If you will be purchasing raffle tickets, please review the baskets on this page and choose your raffle ticket quantities prior to calling us.
You will be instructed to mail your payment to or come to The Public Theatre, 31 Maple St., Lewiston to pay for your order.
Orders must be paid by Wednesday, Feb 10 at 5:00 pm
I already bought a ticket. Can I add another daughter?
Yes.  You may add additional daughters up until Feb 10 at 5:00 pm.
Start a new ticket order but only purchase the $10 Add Daughter ticket.
In "Comments" during checkout, please note that you have a previous order and provide the Order Number so we can match them up.
How will I access the Virtual Ball?
About 24 hours before the event, you will receive an email containing a link and instructions to connect to the event.
The event link will be sent to the email on your confirmation.
Will other guests be able to see me?
No.  This is not like a Zoom meeting.  You will be joining a Live Stream event that everyone will see and hear at the same time, but there is no audio or video input from participant's devices.
All guest interaction will be through the moderated social media wall for the event.
What if there is a severe storm the day of the ball?
If widespread power outages interfere with the Virtual Ball, we will notify you of a rescheduled date.  This is tentatively the next Saturday, Feb 20 from 6:00 – 7:00 pm