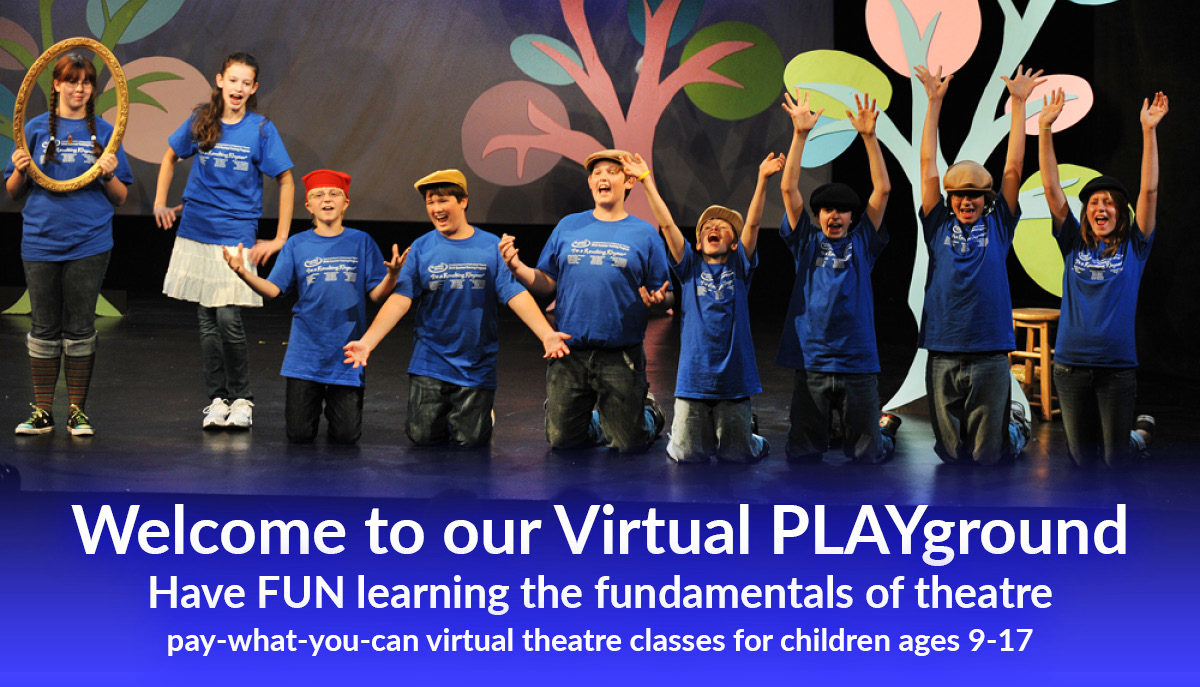 A Virtual PLAY Ground for your Students!
In the Fall, we thought about the impact the pandemic would have on you, your students, and the Arts, and asked – HOW CAN WE HELP?
Since we are currently unable to produce plays, we offered to virtually teach or create something with your students FOR FREE.
So far, multiple schools and teachers have taken us up on our offer to virtually teach their students and we wanted to share their feedback and ideas on how to incorporate our skills into your classroom.
We ask every teacher we work with, "What would you like your students to take away from a virtual theatre workshop?" and if there are any topics or assignments coming up in your lesson plan we can tailor our teaching to meet your needs.
If you're looking to help your students find new ways to express themselves, use their imagination, or grow more creative in their writing – we can help.
Children learn best by DOING. In the theatre, to ACT literally means TO DO.
"It really made my students think about developing a character in a story. The activities were fun and engaging for the students!" – Woodstock Elementary, grade 5
"Dynamic activities, moved their bodies, helped stretch students out of their comfort zone and avoid feeling self-conscious, use their voices in new way. FUN. This was such a great session and I'm grateful we had the opportunity to do it." – McMahon Elementary, grade 3
"The students were fully engaged and were having a fun time doing it! I would love to do this again. The students still talk about the activities that we did. I will make sure to promote you to other teachers." – Dyer Elementary, grade 5
---
Language Arts and communication skills as well as connecting kids to their bodies is our specialty. We teach with the philosophy that theatre skills are life skills.
Theatre skills . . .
Keep students' creativity alive.
Make students more adaptable, better problem solvers, and team players
Increase their self-esteem and confidence.
And our classes are fun. Something we all need right now.
We are also looking into the possibility of sharing a video of last year's cancelled performance of I and You with schools in the coming school year. You can read the Study Guide, here.
---
We are currently scheduling more classes for the winter.  Below are descriptions of some of the workshops we've been teaching.
Classes are approximately one hour each. A series of classes or a special project focus is also available.
We are offering our services FOR FREE because we understand schools will not be doing field trips or be given resources for many things that students still need. We genuinely want to find a way to serve our children during this difficult time and keep their creativity alive. If you are interested in learning more, EMAIL US or call us at 782-2211 and we'll set up a time to chat and see how we can help.
Here's an example of some of our virtual classes:
IGNITE YOUR IMAGINATION
Anything is possible in this fun class that breaks the rules about what you think you can think. Using theatre games, voice, movement and writing exercises, we expand what we think is possible and explore new ways to express ourselves. Since we have the power to imagine anything, let's create more things that make us giggle! (Recommended for any age!)
CREATING COOL CHARACTERS
If YOU were a character in a play, what's the most important thing you'd want an audience to know about you? Using theatre games and creative writing, we'll explore the things in our lives that make US interesting characters. By the end of class, you'll create and perform a short monologue to share your amazing self with the world. (Recommended for any age!)
A MUSICAL THEATRE DANCE WORKSHOP
In this high energy and entertaining workshop, students learn choreography set to songs from popular musicals, while exploring style, character, and storytelling. No previous dance experience is required. (Recommended for any age!)
I LOVE LANGUAGE
Discover new ways to experience words and the fun and power of using them to communicate. We'll play with everything from Shakespearean insults to slam poetry as we unlock the potent possibilities in language. (Recommended for Grade 5 and Up)
---
Sign up for our Education Programming Emails
Sustainability Underwriters

The Public Theatre
31 Maple Street
Lewiston, ME 04240
Business: (207) 782-2211
Tickets: (207) 782-3200