The Public Theatre Seeks Creative Kids!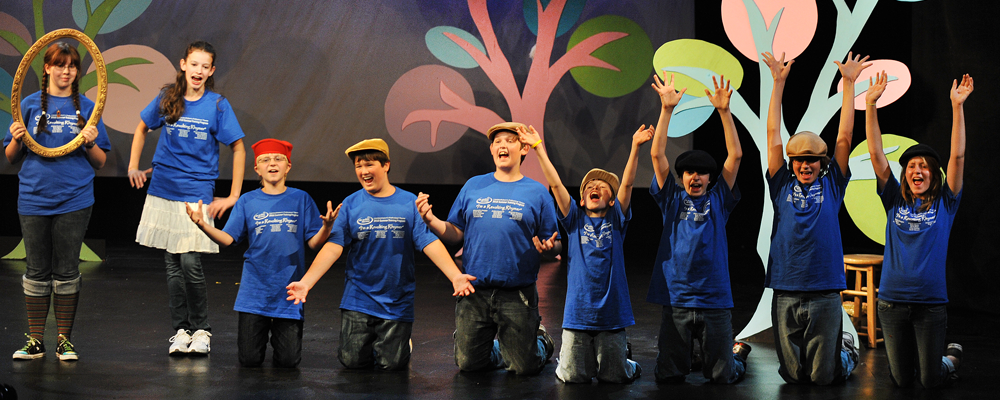 Sign up to get information about free programming, student matinees, No Teacher Left Behind Free Previews (once our in-person performances resume) and more.
A Virtual PLAY Ground for your Students!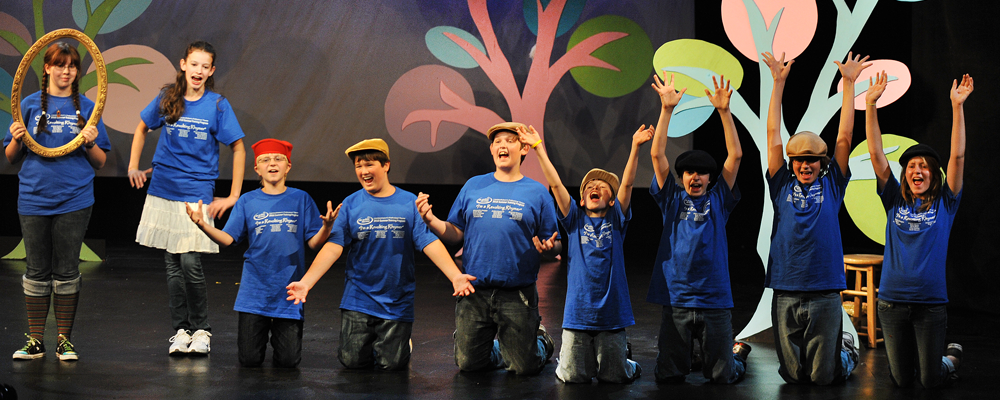 In the Fall, we thought about the impact the pandemic would have on you, your students, and the Arts, and asked – HOW CAN WE HELP?
Since we are currently unable to produce plays, we offered to virtually teach or create something with your students FOR FREE.
So far, multiple schools and teachers have taken us up on our offer to virtually teach their students and we wanted to share their feedback and ideas on how to incorporate our skills into your classroom.
We ask every teacher we work with, "What would you like your students to take away from a virtual theatre workshop?" and if there are any topics or assignments coming up in your lesson plan we can tailor our teaching to meet your needs.
If you're looking to help your students find new ways to express themselves, use their imagination, or grow more creative in their writing – we can help.
---
Children learn best by DOING. In the theatre, to ACT literally means TO DO.
"It really made my students think about developing a character in a story. The activities were fun and engaging for the students!" – Woodstock Elementary, grade 5
"Dynamic activities, moved their bodies, helped stretch students out of their comfort zone and avoid feeling self-conscious, use their voices in new way. FUN. This was such a great session and I'm grateful we had the opportunity to do it." – McMahon Elementary, grade 3
"The students were fully engaged and were having a fun time doing it! I would love to do this again. The students still talk about the activities that we did. I will make sure to promote you to other teachers." – Dyer Elementary, grade 5
"This truly adds so nicely to the reading AND writing unit we have been working in! (Narrative writing and deep study of Character in reading). Students engage in a way that provides evidence for our speaking/listening standards AND engages in content that ties in directly to some of the standards we have to teach. Thank you for how you got students to be involved. Two girls who happened to go first in the activities, were two of my girls who struggle to put themselves out there. I was SO thrilled that they followed the lead that was given to them, and they just did it. Clearly, you had engaged them in a non-threatening way with the support to push them. It's those little things that just make my day!" – McMahon Elementary, grade 6
---
Language Arts and communication skills as well as connecting kids to their bodies is our specialty. We teach with the philosophy that theatre skills are life skills.
Theatre skills . . .
Keep students' creativity alive.
Make students more adaptable, better problem solvers, and team players
Increase their self-esteem and confidence.
And our classes are fun. Something we all need right now.
We are currently scheduling classes for the winter.  Below are descriptions of some of the workshops we've been teaching.
Classes are approximately one hour each. A series of classes or a special project focus is also available.
We are offering our services FOR FREE because we understand schools will not be doing field trips or be given resources for many things that students still need. We genuinely want to find a way to serve our children during this difficult time and keep their creativity alive. If you are interested in learning more, EMAIL US or call us at 782-2211 and we'll set up a time to chat and see how we can help.
---
Here are examples of some of our virtual classes:
IGNITE YOUR IMAGINATION
Anything is possible in this fun class that breaks the rules about what you think you can think. Using theatre games, voice, movement and writing exercises, we expand what we think is possible and explore new ways to express ourselves. Since we have the power to imagine anything, let's create things that excite us! (Recommended for any age!)
CREATING COOL CHARACTERS
If YOU were a character in a play, what's the most important thing you'd want an audience to know about you? Using theatre games and creative writing, we'll explore the things in our lives that make US interesting characters. By the end of class, you'll create and perform a short monologue to share your amazing self with the world. (Recommended for any age!)
A MUSICAL THEATRE DANCE WORKSHOP
In this high energy and entertaining workshop, students learn choreography set to songs from popular musicals, while exploring style, character, and storytelling. No previous dance experience is required. (Recommended for any age!)
I LOVE LANGUAGE
Discover new ways to experience words and the fun and power of using them to communicate. We'll play with everything from Shakespearean insults to slam poetry as we unlock the potent possibilities in language. (Recommended for Grade 5 and Up – Prerequisite "Creating Cool Characters")
I Am A Story is an interactive and theatrical program designed to introduce children and their families to the magical and meaningful world of live theatre through contemporary and classic children's literature. Utilizing theatre games and theatrical techniques to bring stories to life, I Am A Story provides young audiences with an entertaining and engaging environment that encourages participants to navigate their own narrative and empowers them to Think, Explore, and Connect.
While we are unable to meet in person, The Public Theatre continues to partner with publishers and artists from across the country to continue to provide free virtual storybooks to our local libraries and educators.
If you are an Educator or a Librarian and would like to gain access to our virtual storybooks, please register to receive our Educational Programming Emails using the button below.
Click below to Email us your Name, School, Subject and Grade Levels taught and we will sign you up for our Educational Programming emails and send you a private link to our I Am A Story YouTube playlist.
Moving forward, you'll get links to future virtual storybooks and projects, information about free programming, student matinees, No Teacher Left Behind Free Previews (once our in-person performances resume) and more.
Educational Sponsors
The Public Theatre takes pride in recognizing our educational sponsors. We seek to develop a partnership with local businesses working together for the enrichment of the Lewiston-Auburn area. The following businesses have joined us in this partnership. If you would like to see your company listed here, please contact us regarding sponsorship opportunities.

Please recognize our Season Underwriters
Have a question?
or call 207-782-3200 during business hours
The Public Theatre
31 Maple Street
Lewiston, ME 04240
Business: (207) 782-2211
Tickets: (207) 782-3200