In choosing our season, we look for plays that speak from the heart; that are life-affirming and uplifting even when the subject matter is challenging; that use our language in powerful and provocative ways; that invite the audience to see their world in a new way. Artistic excellence is central to the mission of The Public Theatre.
New this season, The Public Theatre will also be offering a Video-On-Demand option of a performance recorded in front of a live audience for each play in the season that you can watch from home.
2021-22 Subscription Series
Subscriptions on sale now.  Call 207-782-3200.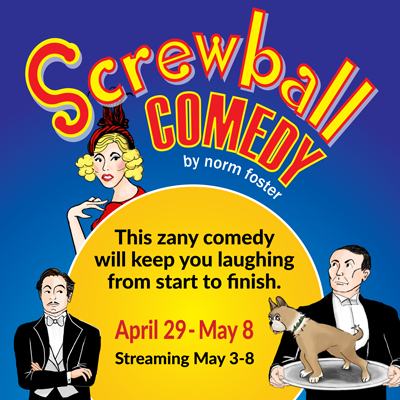 Screwball Comedy
by Norm Foster
April 29 – May 8, 2022
Video-On-Demand May 3 -8, 2022

Imagine His Girl Friday meets The Carol Burnett Show in this fast-paced, hilarious nod to the Hollywood comedies of the '30s and '40s. Filled with classic characters and snappy banter like, "I'm gonna kiss you so hard your cousin in Texas is gonna get a tax refund", this zany comedy will keep you laughing from start to finish.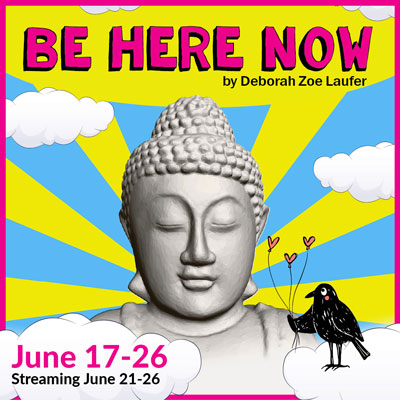 Be Here Now
by Deborah Zoe Laufer
June 17-26, 2022
Video-On-Demand June 21-26, 2022
An Intriguing Comedy About Happiness
A pessimistic professor of nihilism develops a dangerous medical condition with a side effect that turns her into a happy, hopeful, believer in love. But what if curing her condition will return her to misery? This wise and quirky comedy asks – is happiness a choice or a pre-existing condition?
Earlier this season . . .
Middletown
by Dan Clancy
Presented by Special License from GFour Productions
October 15-24, 2021
Video-On-Demand Oct 19-24, 2021
This joyful, funny and heartfelt new play tells the story of two couples who've been friends since their children's first day of kindergarten. Thirty-three years later they reminisce about the highs, lows and in-betweens of their shared experiences, reminding us that friends make the good times better and the hard times easier.

A Very Ida Christmas
written and performed by Susan Poulin
December 10-12, 2021
Video-On-Demand Dec 16-26, 2021

Get ready for the funniest holiday show in Maine! It's Christmas in Mahoosuc Mills, and Ida's holiday spirit is so bright she could lead Santa's sleigh. Don't miss Maine's favorite "Woman Who Runs with the Moose" as she shares her hilarious insights and advice for the holidays.
Dancing Lessons
by Mark St. Germain
March 11-20, 2022
Video-On-Demand March 19-27, 2022

An Unpredictable Romantic Comedy
An injured dancer is thrown for a loop when a geoscientist unexpectedly knocks on her door asking for a dance lesson. These mis-matched partners soon engage in a series of funny and surprisingly poignant dance lessons that lead both of them out of their comfort zones in this unpredictable romantic comedy.
Please recognize our Season Underwriters
Have a question?
or call 207-782-3200 during business hours
The Public Theatre
31 Maple Street
Lewiston, ME 04240
Business: (207) 782-2211
Tickets: (207) 782-3200