by Lauren Gunderson
Streaming March 8 – 21, 2021
Last March, we had to cancel our production of I AND YOU on the day is was scheduled to open. We recently gained permission to share the recording of a live performance we made right before the actors headed back to New York.
Mysteriously forced together to complete a book report, an unlikely pair of teenagers discover a shocking secret that will connect them forever. Joyful and heartbreaking, I AND YOU carries an uplifting message for this moment in time when we all miss being connected. Read More >>
You're probably wondering what's happening at the theatre and when you'll be able to see a play again. And the truth is, we are still figuring that out.
Our ability to produce live on stage will depend upon the cost of meeting CDC guidelines, gaining permission from Actors' Equity and the financial considerations of performing for a limited sized audience. Your safety, and the safety of our actors and staff will always be our first consideration.
Rest assured, we will be back. We miss you and the joy of creating theatre for you, however given the current unknowns, we prefer to move forward conservatively and find ourselves delighted to be able to add programming rather than change plans that are unrealistically ambitious.
In the meantime, there is good work we can do.
We have recently offered our support to educators throughout the state as they navigate the school year, offering free virtual theatre workshops. Theatre can meet a very important need right now – filling in gaps in the current virtual education situation, keeping the arts alive in schools, teaching empathy, play, curiosity, creating joy, all while maintaining safety and providing challenging and fun content.
We have also partnered with our local libraries, creating videos that bring books to life for young readers.
And for adults, we've started a monthly play reading club!
We realize this is an unexpected way to begin a celebration of our 30th season, but we trust that our time apart will make our reunion with you all the sweeter.
We hope you will consider the impact the theatre makes in your life and consider a one-time or recurring donation of any size to help sustain us during this unprecedented time. We will continue to keep you posted on our reopening plans. Thank you for your support, and take good care of yourselves and each other.
Earlier this season . . .
Watch for FREE!
Since we're currently unable to perform A Christmas Carol, we decided to make a series of three short videos sharing some fascinating footage and fun anecdotes from the past 27 years of performing our unique adaptation. Read more >>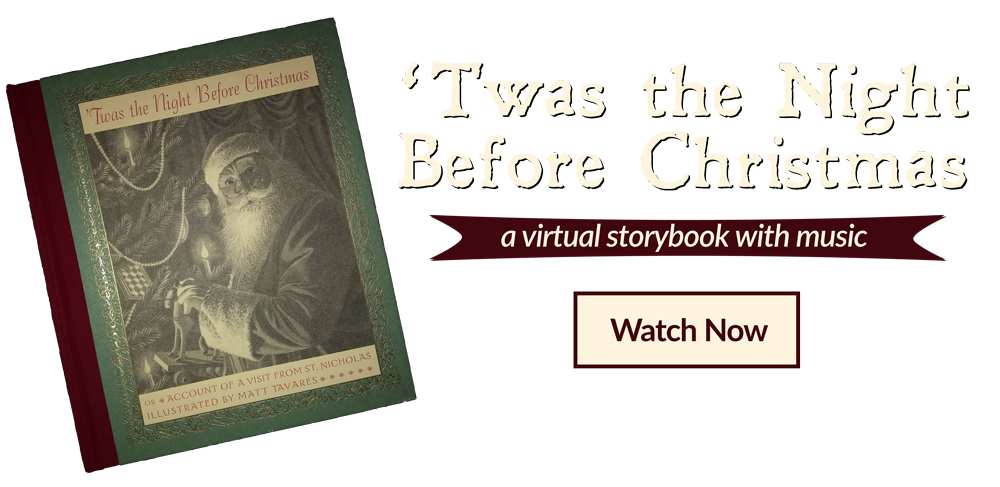 'Twas the Night Before Christmas | a virtual storybook with music
Illustrated by Matt Tavares. Original music by Greg Boardman.
Presented by special arrangement with Matt Tavares and Candlewick Press.
Available for viewing through December 31, 2020.
The Public Theatre presents a reading of 'Twas The Night Before Christmas, featuring illustrations by Maine illustrator Matt Tavares with original music by Maine fiddler Greg Boardman.
The Public Theatre
31 Maple Street
Lewiston, ME 04240
Business: (207) 782-2211
Tickets: (207) 782-3200