Wheelchair Accessibility
The Public Theatre lobby is at sidewalk level.
Handicapped Parking is located in the Lisbon Street parking lot, near the front of the building, facing Maple Street.
There are curb cuts allowing wheelchair access to the sidewalk from the Lisbon Street parking lot handicapped parking spaces and another just past our building on Maple Street. See map
We have two seating areas which are wheelchair accessible directly from the lobby level. These areas have no fixed seating and can accommodate non-wheelchair seating for others in your party as well as others with limited mobility. Please select these seats and acknowledge the notice when purchasing online, or request this seating when reserving your tickets over the phone. These sections are available on a first-come, first-served basis. See Seating Chart
Hearing Assistance
The Public Theatre is pleased to offer hearing assistance free of charge for patrons with hearing difficulties, so that they may enjoy our productions no matter where they are seated in the theater.
We are using a system which transmits an FM signal to a personal receiver outfitted with lightweight headphones. We also have a limited number of neckloops for use with hearing aid(s) equipped with a "T-coil." Those hearing aids must be set in the Telephone (T) position for the neckloop to function properly.
All hearing devices should be picked up at the box office before the performance, or during intermission, if you find you require one during the show. Please be aware that we do ask the users for their car keys, a driver's license or a credit card to be kept as security for the return of the system. Return your listening device to the Box Office at the end of the show. Reservations are not required, although "walk-in" use will be subject to first-come, first- served availability.
For more information or to reserve a device for your performance, please call (207) 782-3200.
The Public Theatre's Assisted Listening System
was funded in part by
Dr. & Mrs. Ben Lounsbury
and a grant from the
Maine Arts Commission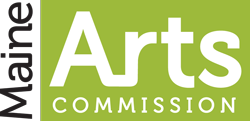 an independent state agency supported by the
National Endowment for the Arts

Have a question?
or call 207-782-3200 during business hours
The Public Theatre
31 Maple Street
Lewiston, ME 04240
Business: (207) 782-2211
Tickets: (207) 782-3200