2022 - 23 Student Matinees
All tickets to Student Matinees are $5 each.
We offer special morning student matinee performances held at The Public Theatre featuring post-show talkbacks with the actors and directors. Student rates are also available for our public performances. To help you make the most of your experience, free study guides are available prior to attending and pre or post-show workshops about the production are available upon request. Teach your students the habit of participating in the cultural life of their community and give them an experience that will expand their world in new and exciting ways.
Call 782-2211 to reserve space for your class.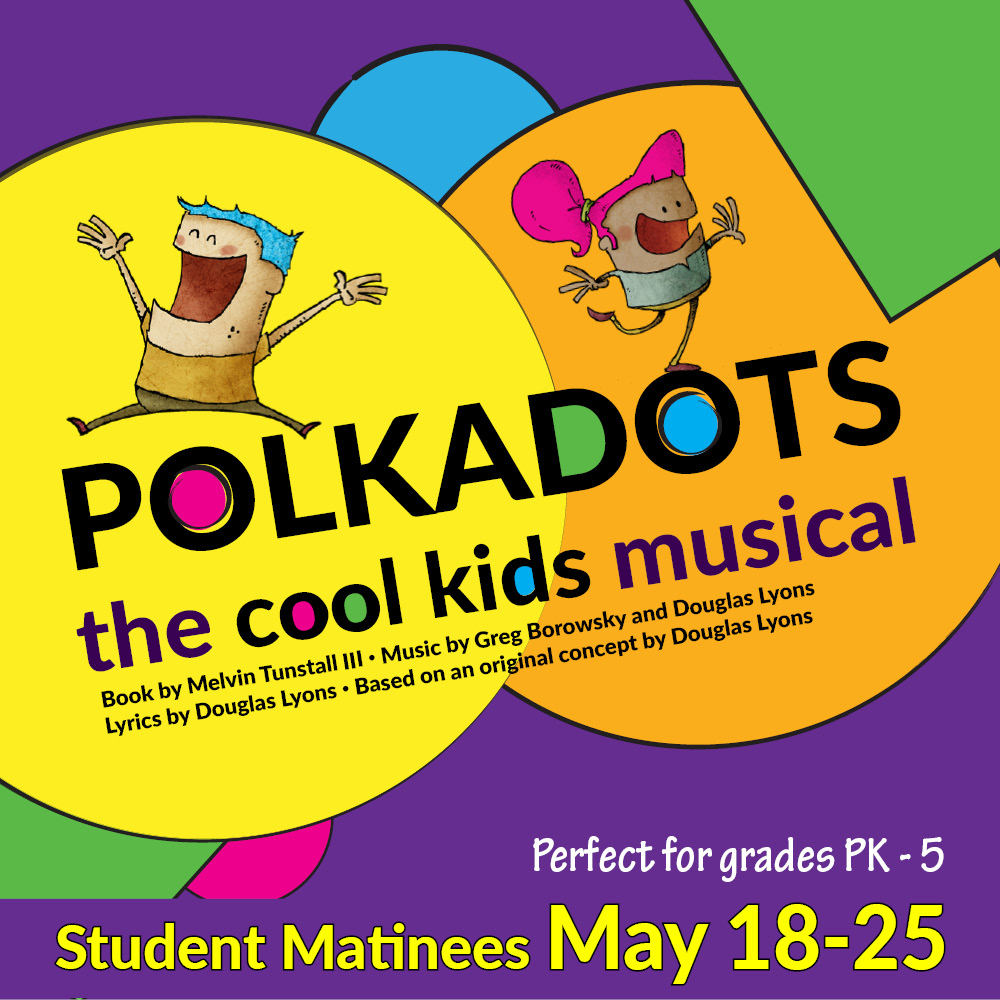 POLKADOTS: The Cool Kids Musical
Book by Melvin Tunstall III, Music by Greg Borowsky and Douglas Lyons,
Lyrics by Douglas Lyons
Based on an original concept by Douglas Lyons
It is never too early to book your class for a Student Matinee!
Thursday, May 18, 2023 at 9:30 AM and 11:30 AM
Friday, May 19, 2023 at 9:30 AM – SOLD OUT
Tuesday, May 23, 2023 at 9:30 AM and 11:30 AM
Wednesday, May 24, 2023 at 9:30 AM
Thursday, May 25, 2023 at 9:30 AM
Friday, May 26, at 10:00 AM

This delightful musical combines catchy songs, the humor of a Pixar film and a valuable message about diversity and acceptance into entertaining family fun for ages 4 and up! When 8-year-old Lily moves to a new town, she faces the challenge of being the first Polkadot in an all Square school. Overcoming her obstacles, she challenges the minds and hearts of her peers showing everyone that our differences make us awesome, not outcasts.
Recommended Age: Grade K-5
Rating: G
Sticks and Stones
performed by Alex Newell
This is just one of the upbeat, original songs featured in Polkadots: The Cool Kids Musical.
Earlier this season . . .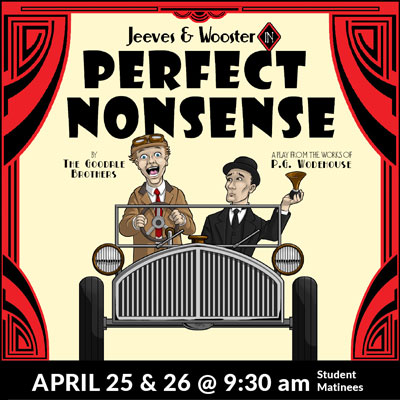 Jeeves and Wooster in 'Perfect Nonsense'
by The Goodale Brothers
Tuesday, April 25, 2023 at 9:30 AM
Wednesday, April 26, 2023 at 9:30 AM
It's Monty Python meets Downton Abbey in this delightfully silly comedy for audiences of all ages. Bertie's friends find his anecdotes so entertaining they've suggested he rent a theatre and tell them on stage! Lucky for him, his dependable valet Jeeves is on hand to run the lights, create the scenery, play all the roles and save the day. Inspired by the comic stories of P.G. Wodehouse, and told in the comic style of our production of "The Hound of the Baskervilles," don't miss London's Olivier Award Winner for Best New Comedy.
Recommended Age: Grade 5 and Up
Rating: PG
Pilgrims Musa and Sheri in the New World
by Yussef El Guindi
Tuesday, March 7, 2023 at 9:30 AM
Wednesday, March 8, 2023 at 9:30 AM
At its heart Pilgrims Musa and Sheri in the New World is an honest, funny and complex love story. Musa, a sweet-natured immigrant cab driver and semi-practicing Muslim, and Sheri, a sassy American waitress, must negotiate the twists and turns of love and cultural differences. Anyone who has ever looked for love knows the dilemma. Do you make a safe and sensible match with someone, or risk everything on the unexpected great love of your life? Winner of the Steinberg New American Play Award, this smart, funny and thought-provoking romantic comedy looks at the things which draws people together as much as pulls them apart.
Explore more about the show
Pilgrims Musa and Sheri in the New World is the story of three Muslim immigrants – an Egyptian cab driver and his Somali and Sudanese friends, who make a new life for themselves in an American city.
This play raises questions about our identity. How much of who we are is where we have come from and the expectations that are placed on us? Must we become copies of our parents and represent the customs and culture we were raised in, or can we explore a new way of life in a new land? We believe these questions will make for an interesting conversation among your students.
We recently reached out to a leader within L/A's immigrant community who loved the script and believed this funny and heartfelt play explored situations and cultural realities many New Mainers are facing today and talking about amongst themselves.  Having the chance to see a play that is relevant and resonant to their lives on our stage, portrayed by professional actors, some of whom are immigrants themselves will be a unique opportunity in Maine.
The playwright Yussef El Guindi, an Egyptian immigrant himself, calls this play, "A love letter to the immigrant experience".
Recommended Age: Grades 10 and Up
Rating PG-13 – Contains some language and sexual situations (but nothing explicit)
The Victorian Ladies' Detective Collective
by Patricia Milton
Tuesday, November 8, 2022 at 9:30 AM
Wednesday, November 9, 2022 at 9:30 AM
It's "Sherlock Holmes" meets "Arsenic & Old Lace" in this entertaining murder mystery with a modern female sensibility. Two strong-willed sisters run a London boarding house for single ladies. When a series of mysterious murders terrorize their neighborhood, they find Scotland Yard to be no help at all! Taking matters into their own hands, the two women team up with a cheeky American actress and set off to solve the crime.
Recommended Age: Grade 6 and Up
Rating: PG
Download the Audience Guide as a resource for your class, including questions for discussion and an exclusive short interview with playwright, Patricia Milton.
Educational Sponsors
The Public Theatre takes pride in recognizing our educational sponsors. We seek to develop a partnership with local businesses working together for the enrichment of the Lewiston-Auburn area. The following businesses have joined us in this partnership. If you would like to see your company listed here, please contact us regarding sponsorship opportunities.