2023 - 24 Student Matinees
All tickets to Student Matinees are $5 each.
We offer special morning student matinee performances held at The Public Theatre featuring post-show talkbacks with the actors and director. Student rates are also available for our public performances. To help you make the most of your experience, free study guides are available prior to attending and pre or post-show workshops about the production are available upon request. Teach your students the habit of participating in the cultural life of their community and give them an experience that will expand their world in new and exciting ways.
Call 782-2211 to reserve space for your class.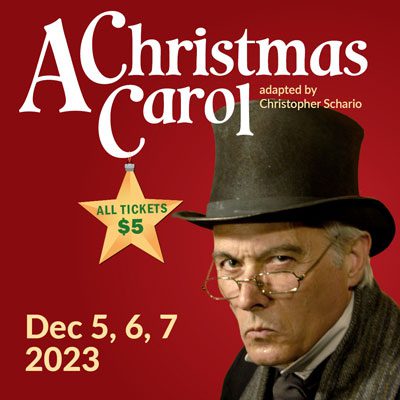 adapted by Christopher Schario
December 5-7, 2023
These numbers do not auto-update. Please call for current availability.
(as of 11/20 12:30pm)
Tues, December 5 @ 9:30 am | SOLD OUT
Tues, December 5 @ 11:30 am | space for large groups
Wed, December 6 @ 9:30 am | 40 seats left
Thur, December 7 @ 9:30 am | SOLD OUT
Thur, December 7 @ 11:30 am | 20 seats left
A modern and traditional tale in one! Six actors and a fiddler perform the Dickens out of this beloved holiday classic—in a way you've never imagined and will never forget. This inventive version of A Christmas Carol will entertain and engross your students, while introducing them to the beautiful language of Charles Dickens.
Recommended for students in Grades 3 and up.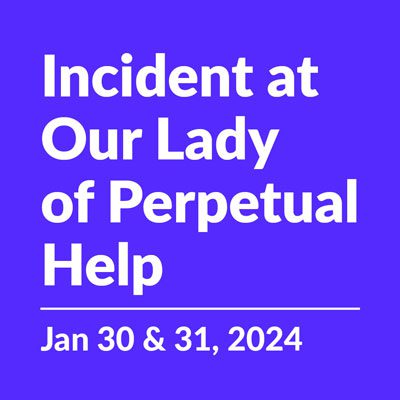 Incident at Our Lady of Perpetual Help
by Katie Forgette
Tuesday, Jan 30, 2024 at 9:30 AM
Wednesday, Jan 31, 2024 at 9:30 AM
Whether you grew up Catholic, lived through the 1970's, or your family resembles the "fun" in dysfunctional – this nostalgic and heartfelt new comedy is for you! Travel back in time to a world before cellphones and social media when public ridicule in a hermetically sealed Catholic parish was the ultimate nightmare. It's 1973 and the O'Shea family faces a comic crisis of biblical proportions when their 19-year-old daughter tells her younger sister about "the birds and the bees" and their bawdy conversation is overheard by the parish priest. Holy hell and hilarity break loose as the O'Shea's band together to preserve their good name and prove that nothing is more sacred than family. Get ready for heartwarming laughter and all the polyester you can handle!
Recommended Age: Grade 9 and Up
Rating: PG-13
Secret Hour
by Jenny Stafford
Tuesday, March 19, 2024 at 9:30 AM
Wednesday, March 20, 2024 at 9:30 AM
Is it possible to be your authentic self in a relationship if sharing your life with another person means having to compromise what you want? Like most married couples, Kate and Ben hold back being completely honest with each other to avoid conflict and feel loved. For fun, they invent a game called "Terrible Secret Hour" where they each confess an unflattering truth and promise to love one another regardless.  But is being truthful the same thing as being true to oneself? Thankfully their wise and hilarious handyman has a life coach certificate and is happy to help them navigate life's tough spots. Entertaining, humorous, poignant, and thoughtful, you'll be talking about this provocative new play all the way home.
Recommended Age: Grades 10 and Up
Rating PG-13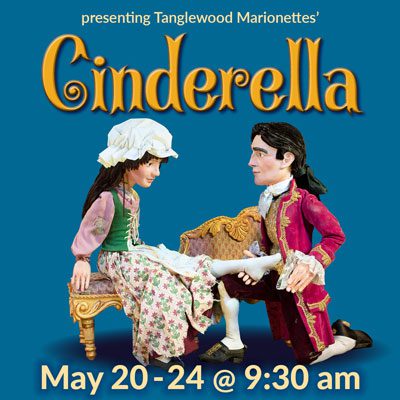 Cinderella
by Tanglewood Marionettes
It is never too early to book your class for a Student Matinee!
Monday, May 20, 2023 at 9:30 AM
Tuesday, May 21, 2023 at 9:30 AM 
Wednesday, May 22, 2023 at 9:30 AM
Thursday, May 23, 2023 at 9:30 AM
Friday, May 24, 2023 at 9:30 AM

Tanglewood Marionettes award winning production of Cinderella is a classic fairy tale told with wit and style, sure to please audiences of all ages.
Set in the eighteenth century and featuring a dozen lavishly costumed 30" marionettes, the story unfolds as the pages of a giant book open to reveal a beautifully painted village square, rustic kitchen, magnificent ballroom, plus many more settings.
All your favorite characters are here, from gentle Cinderella to the silly stepsisters and the charming Prince, and yet we offer a few surprises. Cinderella's conveyance to the ball is NOT the traditional horse-drawn coach, and, when all hope seems lost, a clever little bluebird saves the day!
Don't miss this magical classic told in a way you've never seen before.
Running time: 45 minutes
Recommended age:  Pre-K – 6th Grade
Rating: G
Cinderella by Tanglewood Marionettes
Get a sneak peek at the show:
Educational Sponsors
The Public Theatre takes pride in recognizing our educational sponsors. We seek to develop a partnership with local businesses working together for the enrichment of the Lewiston-Auburn area. The following businesses have joined us in this partnership. If you would like to see your company listed here, please contact us regarding sponsorship opportunities.