Box Office Hours
The Box Office opens two weeks prior to the opening of each show. All other times, calls are forwarded to the Business Office.
Monday – Friday 12 noon – 5:00 pm
On Performance days – 12 noon – intermission (actual hours may vary)
or CALL (207) 782-3200
The Box Office at The Public Theatre is located at the corner of Lisbon & Maple streets in downtown Lewiston.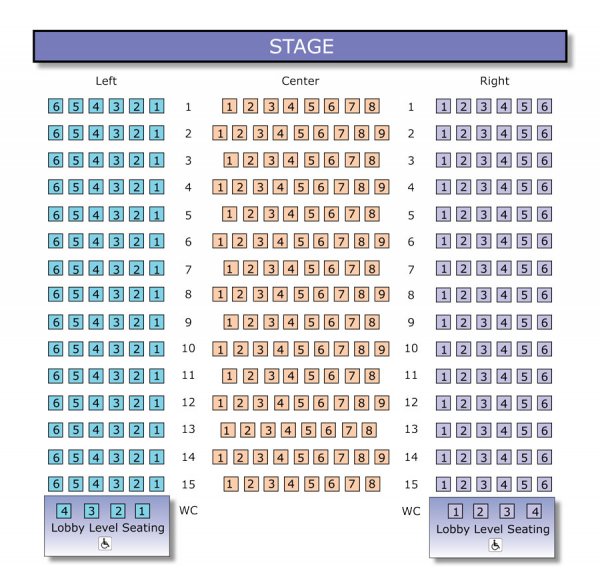 Single Tickets
Single tickets can be purchased for any performance:
$30 – Adult
$20 – Student (19+ with valid student ID); proof of eligibility may be requested at time of pick-up
$15 – Youth (4 – 18)
All Single Tickets will have a $3 processing fee added at checkout, regardless of method of payment. All phone/walk-in reservations need to be paid for 48 hours in advance of the performance.
All sales are final. No refunds will be issued. Exchanges may be made according to our Exchange Policy. Please note exchanges cannot be made after a performance has taken place.
Are my children old enough to enjoy the show?
No children under 4 years-old will be admitted to any performance, except for the spring children's show. No babes in arms, or lap children. If you have purchased a ticket for a child too young to attend, please contact The Box Office for a refund. For older children and regular performances, it is up to you.  You will find age recommendations for each show based on how we are selling the shows to school groups.
Group Ticket Sales
The group rate price is $25.00 per ticket – $5 off our Adult ticket (Adult tickets are $30 + $3 Fee)
Pay one $10 Fee for your entire Group Sales Order.
Group Rate tickets are available for a party of ten or more adult priced tickets.
Student and Youth rate tickets are not eligible for, nor do they count toward, the group rate discount as these tickets are already sold at a discounted price.
BOOK YOUR GROUP EARLY – Groups may reserve for any show at any time by calling (207) 782-3200.  You cannot reserve Group Rate tickets ONLINE.  Please call us to reserve your group.
In order to receive the Group Rate you will have to organize your group, make your reservation, pay for it in advance, and designate one person to pick up all of the tickets to distribute to your group.
You will find helpful hints, and details about our group sales policy here: 
Subscriptions
Subscribers have the advantage of making their reservations before tickets go on sale to the general public, free exchanges, and a free Bonus ticket. Interested in becoming a subscriber?
Gift Certificates
Gift Certificates may be redeemed for one or more tickets to any show at The Public Theatre. Gift Certificates have no cash value and are not refundable. They do not expire and are worth the value of the items indicated at the time of purchase.
You can now purchase gift certificates online through our secure website to send directly to your recipient, to you, or for pick-up.
Want to order by phone? Call (207) 782-3200
Holiday 2023 Gift Certificate Order Deadlines
MAILING: Order by Thurs, Dec 14 – 5pm for GC to be mailed to you or recipient.
PICK UP: Order by Wed, Dec 20 – The office will close for the Holiday Thurs, Dec 21 at noon. Calling ahead is recommended.
EMAIL: You can purchase Gift Certificates ONLINE 24/7 and have the certificates emailed to you, or the recipient. Follow the instructions on the ordering site.
Event Vouchers
Event Vouchers may be issued for various reasons including when patrons are unable to attend after they have purchased tickets.  They are different from Gift Certificates.
Vouchers may be valid for a specific show or season, and may be exchanged as indicated on the voucher.
Vouchers are valued at the amount of the original purchase and valid for one year from the date of issue.
Vouchers may not be redeemed for Co-Productions unless indicated on the voucher.
Vouchers must be redeemed by phone or in-person. Follow instructions provided on the voucher.
Have a question?
or call 207-782-3200 during business hours
The Public Theatre
31 Maple Street
Lewiston, ME 04240
Business: (207) 782-2211
Tickets: (207) 782-3200