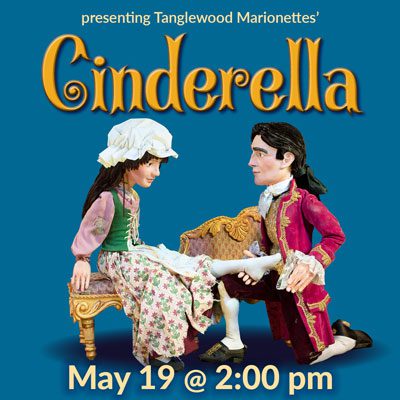 About the Artists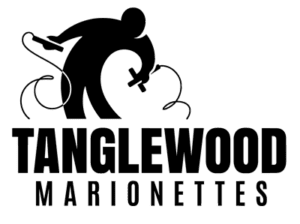 Founded in 1993, Tanglewood Marionettes is a nationally touring marionette theater based in New England. Large, beautifully hand-crafted marionettes, colorful sets, and integrated lighting and sound create a fully immersive theatrical experience. Our highly skilled puppeteers have spent many years perfecting their art, delighting audiences of all ages as they bring our repertoire of classic tales to life. We are the recipients of two UNIMA awards, puppetry's highest honor, for our productions An Arabian Adventure and The Dragon King.
Read more at TanglewoodMarionettes.com
Cinderella by Tanglewood Marionettes
Get a sneak peek at the show:
Cinderella
by Tanglewood Marionettes
Perfect for grades PK-6!
Tanglewood Marionettes award winning production of Cinderella is a classic fairy tale told with wit and style, sure to please audiences of all ages.
Set in the eighteenth century and featuring a dozen lavishly costumed 30" marionettes, the story unfolds as the pages of a giant book open to reveal a beautifully painted village square, rustic kitchen, magnificent ballroom, plus many more settings.
All your favorite characters are here, from gentle Cinderella to the silly stepsisters and the charming Prince, and yet we offer a few surprises. Cinderella's conveyance to the ball is NOT the traditional horse-drawn coach, and, when all hope seems lost, a clever little bluebird saves the day!
Don't miss this magical classic told in a way you've never seen before.
Thank You To Our Partners

Performance Dates
Sunday, May 19, 2024 – 2:00 PM
Ticket Prices
$15 Adults / $15 Children
Are my children old enough to enjoy the show?
For the enjoyment of the show by you and your fellow patrons, your child should be able to sit for the duration of the 45 minute show. No babes in arms, or lap children. If you have purchased a ticket for a child too young to attend, please contact The Box Office for a refund.
Educational Sponsors
The Public Theatre takes pride in recognizing our educational sponsors. We seek to develop a partnership with local businesses working together for the enrichment of the Lewiston-Auburn area. The following businesses have joined us in this partnership. If you would like to see your company listed here, please contact us regarding sponsorship opportunities.
Have a question?
or call 207-782-3200 during business hours
The Public Theatre
31 Maple Street
Lewiston, ME 04240
Business: (207) 782-2211
Tickets: (207) 782-3200