IT'S MATCH MADNESS!
A generous friend of the Theatre has pledged to MATCH all donations
received in MARCH, up to $10,000!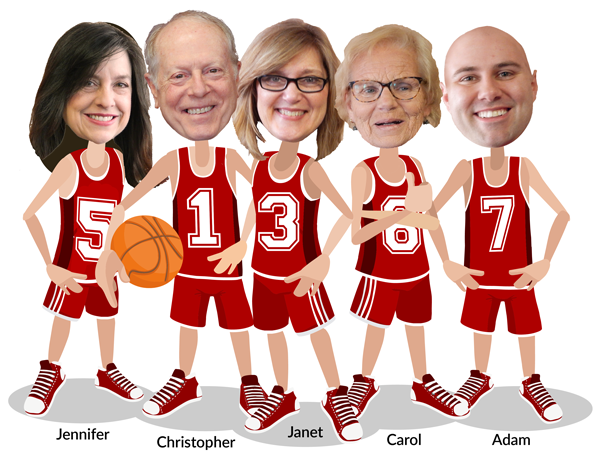 It's MATCH Madness at The Public Theatre, and we're asking YOU to join our team.
Above are the five full-time starters behind every artistic and administrative decision that happens at The Public Theatre. Assisted by several talented part-time players, these five dedicated teammates play multiple positions all season long, diving after every ball to make great plays happen.
An anonymous friend has agreed to MATCH all donations made in the month of March!  Please take this time-sensitive opportunity to double the impact of your contribution to team Public Theatre.
As a not-for-profit professional theatre, ticket sales cover only part of our operational expenses. As we continue to recover from the impact of the pandemic, the challenge of meeting our fundraising goals remains. This is where YOUR donation can help us score!
If everyone who reads this makes a donation, we can reach our fundraising goal for the year and keep our eye on the real ball – producing the best artistic product we can for you to enjoy.
Our mission is to make great theatre an accessible, affordable and essential part of our audience's life. If you like what we do and share our belief that theatre is for everyone to enjoy, there's never been a better time than NOW to join team Public Theatre with a tax-deductible donation – that will be matched!
With your support, we can win match madness.
We hope that you will take advantage of this special time when the impact of your donation will be doubled. Just make a secure contribution online, by mail or phone, and your donation is on its way to being matched!
We appreciate your support and look forward to seeing you at the theatre!
Make a Secure Online Donation
Donate by check
The Public Theatre
31 Maple Street
Lewiston, ME 04240
*all donations postmarked by 3/31/23 qualify for match
Donate by phone
Call 207-782-2211
Mon-Fri 9:00 am – 5:00 pm
Have a question?
or call 207-782-3200 during business hours
The Public Theatre
31 Maple Street
Lewiston, ME 04240
Business: (207) 782-2211
Tickets: (207) 782-3200