A family-friendly skiing, snowboarding, and snowtubing event.
The Public Theatre is excited to share this new and exciting fundraiser!
Saturday, February 12, 2022 from 5 to 9 pm*

TUBING IS SOLD OUT – All other tickets are sold at the event.  Doors open at 4:30 pm.
$25 Lift Tickets for Skiing and snowboarding **
$10 Tubing Tickets – per hour / timed entry – TUBING IS SOLD OUT
$5 Cub Carpet – $5 Cub Carpet Tickets – for ages 5 and up
As every Mainer knows, cabin fever will be setting in shortly (if it hasn't already). This fundraiser—at a special time and special rate, aims to provide a safe and healthy option for your students and the greater Lewiston-Auburn communities to get outdoors and have fun.
The event will include skiing, snowboarding, snowtubing, raffle baskets (featuring themes for adult and children), 50/50 raffle, FREE hot chocolate & cookies, and a mountain's worth of fun!
This event will raise much needed funds to bring live professional theater to Maine, delighting and inspiring audiences with life-affirming contemporary plays. It also supports The Public Theatre's education and outreach programs. The Theatre has partnered with schools and libraries across Maine to bring the arts—in the form of creative readings, video performances, and live virtual classes—to kids at no cost.
ACTIVITIES
Skiing
Snowboarding
Tubing – timed entry tickets for tubing ensure you get the most out of your runs.
Raffle basket drawings Read more >>
50/50 Cash Raffle
TREATS
FREE Hot Chocolate
FREE Cookies
WAIT!  There's S'MORE! – Order your S'Mores Making Kits in advance to guarantee your S'More making experience, Just $2 each.  S'Mores Making Kit includes graham crackers, chocolate and marshmallow to make one S'More, plus a roasting stick. Limited quantities available for sale at event.
* rain date – February 13, 2022, 5 to 9 pm
 ** This is a private fundraising event. Lost Valley season passes are not valid for this event.
Raffle Tickets
We will have a great selection of baskets, for kids and adults, to enter your tickets in for chance to win.
Basket Raffle Tickets: $2 each, six for $5, fifteen for $10.
50/50 Cash Raffle Tickets are $1 each.
Raffle Tickets will also be available at the event
Drawings will take place at the event.  You do not need to be present to win.
Raffle Baskets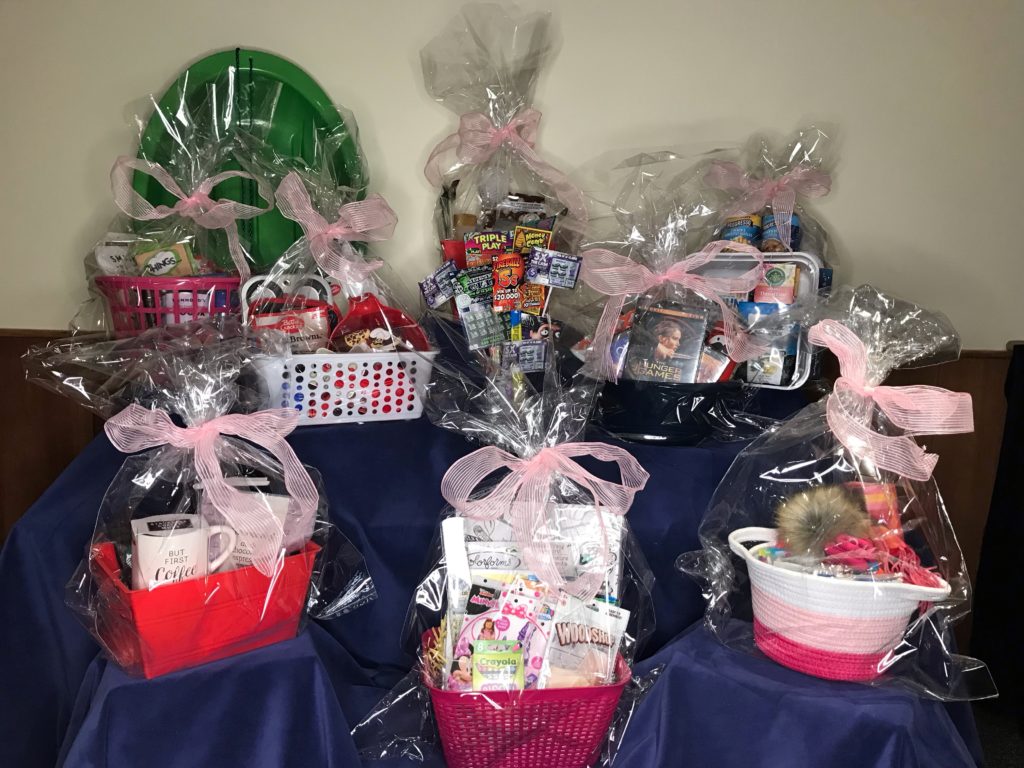 We have a great selection of fun raffle baskets to choose from.  You'll drop your Raffle tickets in for a chance to win what YOU want most.  Click the + to view the contents of each basket.  They will all be on display at the event.
Arts & Crafts Basket #1
Construction Paper
Drawing Pad
Mechanical Pencils
Ruler
Sticker Story Adventure
Colored Pencils
Crayons
Colored Markers
Activity Pad
Mold N' Play 3D Figure Maker
Easy to Assemble Bird Feeder
Velvet Art Poster Set
Coffee Lovers' Basket #4
2 Stackable Coffee Mugs
Espresso Trail Mix
Starbucks Café Verona Ground Coffee
Side By Each Blend of Coffee
$10 Gift Card to Dunkin' Donuts
$10 Gift Card to Aroma Joe's
$10 Gift Card to Forage
$10 Gift Card to Side by Each
$10 Gift Card to Starbucks
SPA Basket #7
Body Wash
Microfiber Hair Wrap
Body Wash
Shampoo
Conditioner
Bath Brush
Body Lotion
Exfoliating Washcloth & Glove
Bath Sponge
Sleep Mask
Cleansing Cloths
Cotton Makeup Pads
Body Massager
Baking for Fun Basket #2
Cake Mix
Brownie Mix
Frosting
Mixing Bowl
Measuring Cups
Measuring Spoons
Muffin Tin
Mixing Spoons
Spatula
Oven Mitt & Tea Towel
Movie Night Basket #5
In the Heights DVD
The Hunger Games DVD
Onward Disney Pixar DVD
Microwave Popcorn
Pringles
Chex Mix
Peanut M & M's
Game Night Basket #8
Farkle Dice-Rolling Game
Things
Uno Dare Card Game
Candy Cane Flavored Black Tea
Smash Mallow – toasted Vanilla
Chex Mix
Microwave Popcorn
Candy Cane Crunch Cocoa
Double Chocolate Cocoa
"Feel Better" Basket #3
Covid Test
Fuzzy Blanket
Progresso Lemon Orzo Soup
Progresso Chicken Noodle Soup
Saltines
Immune & Stress Tea
Throat Coat Tea
Ricola Soothing Cough drops
6 Pack of Card Games
Tissues
$30 Netflix Gift Certificate
Outdoor Winter Fun #6
Sled
Hat
Scarf
Gloves
Giraffe Mug
Hot Chocolate
Popcorn
Lottery Fun – Adults 18+ #9
Glass Beer Mug
Lottery Tickets
Beef Sticks
Hershey Kisses
Event FAQ's
Please review these FAQ's.  If you still have questions, please give us a call at 207-782-3200.  We are in the office Monday-Friday 9:00 am – 5:00 pm.  You may also email us at info@thepublictheatre.org.
Are ski/snowboard rentals included?
Is tubing included with my lift ticket?
No. Tubing is an extra charge.  You may choose to buy lift tickets or tubing tickets, or both.  Lift Tickets are for the full 4 hour event. Tubing is timed entry for a 55 minute period, starting on the hour.
Can my child or teenager attend by themselves?
Lost Valley states in their Tubing Park information:
Children under the age of 18 must have a parent or guardian present to sign the waiver
There is no admission charge for visitors not utilizing the snow tube park.
Make sure your child meets the 42″ minimum height for Tubing.
Only one person per tube – you may not ride with your child.
You must sign and submit a waiver for Tubing – you may put multiple children on one waiver.
NOTE:  Adults cannot sign the waiver for other adults or other people's children. You must be a parent or legal guardian to sign for minor children. If you are bringing children who you cannot sign for, please download the paper form and have the parent or legal guardian complete the form.
Complete Tubing Activity Waiver Online – To complete this form you will need to purchase your tickets first.  This link will be included in your Ticket Order Confirmation Email.
I want to pay with a check or cash. Do I have to buy tickets online?
If you would like to pay with cash or check please call 782-3200 to place your order.
You will be instructed to mail your payment to or come to The Public Theatre, 31 Maple St., Lewiston to pay for your order.
Orders must be paid by Thursday, Feb 10 at 5:00 pm
Can I buy tickets at the event?
Yes.  Tickets will be available at the event.
Remember, ski and snowboard rentals are an additional fee and we recommend that you reserve in advance to save time at the event. Use this special link for a discount on rental packages for this event. 
https://www.lostvalleyski.com/reserve-rental-equipment/
Tubing tickets are timed entry and you may have to wait for a time slot if you don't purchase in advance.
Raffle tickets will be available for purchase at the event.
S'Mores Kits are best ordered in advance. We will have a limited supply to sell at the event.
How early can I arrive for the event?
We recommend arriving around 4:30 pm to pick up your ticket packs and equipment rentals, especially if you have tickets for the 5:00 pm tubing session.
Lost Valley's regular ski day ends at 4:00 pm, so that will be "rush hour" in the parking lot as everyone leaves.  You may want to time your arrival accordingly.
The slopes / tubing park will open for the event at 5 pm.
Is there a "rain-date" for the event?
Lost Valley will determine if either weather or mountain conditions are not suitable for the event to take place.  In this situation the event will take place Sunday, February 13 – 5-9 pm.
in the event of rescheduling, you will receive a notification at the email you used to purchase your tickets and it will be posted on this site.
Please recognize our Season Underwriters
Have a question?
or call 207-782-3200 during business hours
The Public Theatre
31 Maple Street
Lewiston, ME 04240
Business: (207) 782-2211
Tickets: (207) 782-3200