Great Theatre Gifts for Any Occasion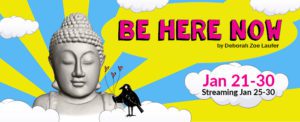 A pessimistic professor of nihilism develops a dangerous medical condition with a side effect that turns her into a happy, likable, believer in love. But what if curing her condition will return her to misery? This wise and quirky comedy asks – is happiness a choice or a pre-existing condition?
An injured dancer is thrown for a loop when a geoscientist unexpectedly knocks on her door asking for a dance lesson. These mis-matched partners soon embark on a series of funny and surprisingly poignant dance lessons that lead both of them out of their comfort zones in this unpredictable romantic comedy.
Imagine His Girl Friday meets The Carol Burnett Show in this fast-paced, hilarious nod to the Hollywood comedies of the '30s and '40s. Filled with classic characters and snappy banter like, "I'm gonna kiss you so hard your cousin in Texas is gonna get a tax refund", this zany comedy will keep you laughing from start to finish.
Gift Certificates
Starting at just $25, tickets to The Public Theatre make great gifts any time. You can even get a paper certificate emailed to you. And they never expire!
Receive GC by USPS: Choose SHIP delivery method to have a Gift Certificate mailed to you or the recipient. – Order by Dec 16.
Receive GC by EMAIL:  Choose EMAIL delivery method to have a Gift Certificate emailed to you to print out. You will receive one "certificate" for each one purchased. Click to download a flyer to print out and present with your Gift Certificates.
Pick up GC at Theatre: Choose WILL CALL delivery method and note under Comments/Special Instructions when you would like to pick it up.  –  The office will close for the holiday Dec 23rd at noon.
2022 Fundraiser Raffle Tickets
 Another Great Stocking Stuffer! 
Better odds than the lottery!  Only 300 tickets sold, $30 each.
Drawing is Feb 10, 2022 or whenever all tickets are sold.
Take a Trip With Us
Wicked – Boston Opera House Bus Trip
Sunday, July 10, 2022
Wicked, the Broadway sensation, looks at what happened in the Land of Oz…but from a different angle. Long before Dorothy arrives, there is another girl, born with emerald-green skin – smart, fiery, misunderstood, and possessing an extraordinary talent. When she meets a bubbly blonde who is exceptionally popular, their initial rivalry turns into the unlikeliest of friendships…until the world decides to call one "good," and the other one "wicked."
"The most complete, and completely satisfying, musical I've come across in a long time." – USA Today
---
Private coach bus departs Lewiston, arriving at Quincy Market in time for shopping and lunch. Enjoy the 1 pm matinee. On the way home we'll stop for a sit-down dinner.
Cost: $210 Per Person
Price includes round-trip travel, admission to Wicked, and a $50.00 non-refundable deposit*. Meals and gratuity are not included.
Tickets are located in the Front Mezzanine.
Call (207) 782-3200 FMI and to reserve your seat today.