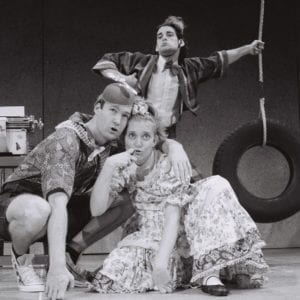 All in the Timing
Peter Husovsky, Janet Mitchko & Michael Messer
Janet discovers she is pregnant the day before rehearsals begin for the opening show of the season Dancing at Lughnasa Christopher and Janet's daughter Emily makes her stage debut "in utero" while Janet Irish step dances onstage. Her growing "bump" is later hidden under a monkey costume in All in the Timing.
We reach out to Carnegie-Mellon alumni asking for some actors to perform the play Love Letters for us as a fundraiser. Ellen Crawford and Mike Genovese from the hit TV show E.R. respond and perform in their first of five shows at TPT.
Christopher's adaptation of A Christmas Carol, which debuted in 1993, is published by Dramatists Play Service.
Dancing at Lughnasa − Brian Friel
All in the Timing − David Ives
A Christmas Carol – adapted by Christopher Schario
Betrayal − Harold Pinter
Love Letters − A. R. Gurney
The Foreigner − Larry Shue